How To Improve Battery Life Of Samsung Galaxy Phones
Struggling with the blink-and-it's-gone battery life of your smartphone? Craving for just a few more hours of screen time? Don't worry. We have cracked the code to boost your phone's battery life!
It's a well-known fact that various factors impact the battery life of your Android phone. The sleek design, always-on mobile data, scorching screen brightness, swift processor speed, ceaseless notifications, and the insatiable web browser – all have an appetite for your phone's battery life.
Now, you might wonder – is there a way to squeeze out more battery life from your Galaxy phone? In this article, we're going to dive deep into a treasure trove of methods that can boost your Samsung Galaxy's battery life. Let's power up!
Which Samsung Phones Have The Best Battery Life
If you want to use your device for roaming on social media the whole day or playing video games, then you need a smartphone with a decent battery life that won't see its demise in just 2 or 3 hours.
Here is the list of Samsung Galaxy devices that have the best battery life.
Samsung Galaxy S22 Ultra, 5000 mAh.
Samsung Galaxy A53 5G, 5000 mAh.
Samsung Galaxy A33 5G, 5000 mAh.
Samsung Galaxy S22+, 4500 mAh.
Samsung Galaxy S21 FE 5G, 4500 mAh.
Samsung Galaxy Z Fold3 5G, 4400 mAh.
Samsung Galaxy S22, 3700 mAh.
Samsung Galaxy Z Flip3 5G, 3300 mAh.
Quick Methods To Improve The Battery Life Of Your Samsung Phone
Battery life is dependable on the usage of a battery and device care, and various mobile phone batteries differ in battery life. You can find the battery life of your phone on the device user manual.
We will now jump into discussing how you could improve and save the battery life and health of your phone through various methods.
1-Brightness level
High-level display brightness causes the increase in battery drain of your Samsung phone. One of the easiest methods to extend the battery life of your phone is by reducing the screen brightness.
Here's how it is done:
Open your phone.
On your home screen, swipe down from the top of your screen.
Drag the brightness slider toward the left side.
2-Screen Time-Out
Prolonged screen time-out also causes severe battery drain on your device. Battery health significantly benefits from low screen time.
To reduce the screen time-out on your phone, follow the steps below.
Head over to Settings on your phone.
Go to Display settings.
Tap on the Screen Time-out option.
Set your preferred Time-out. It is recommended to set it up to 30 seconds in the display settings.
3-Get Rid Of Unused Apps
There are always some unnecessary apps that are present on our phones for no actual purpose. They may run in the background and drain your phone's battery, so it's best to limit apps that are present on your device.
To uninstall those unused apps on your phone, follow the steps below.
On your phone's home screen, long-press the app.
Then, either drag it to the top of your screen to the "Uninstall" option or simply tap the Uninstall icon.
Unfortunately, not every app can be uninstalled on your phone, so you have to disable those apps to save battery and increase battery life. To put those unused apps to sleep, follow the steps below.
Long-press the app.
Then, drag it to the Disable option on top of the display, or select the Disable icon.
4-Turn Off Always On Display (AOD)
Always On Display or AOD uses AMOLED displays to allow you to see particular information even when your device's screen is Off. It enables you to check basic information like dates and times easily without enabling the display.
Any activity that causes your phone to turn all the time will consume the device's battery. You can choose to turn off this setting or set a schedule for it to turn on and off automatically.
Follow the steps below to turn off AOD.
Head over to Settings on your device.
Then, go to the Lock screen and security.
From there, select the Lock screen and then the Always On Display setting.
Toggle the AOD switch off.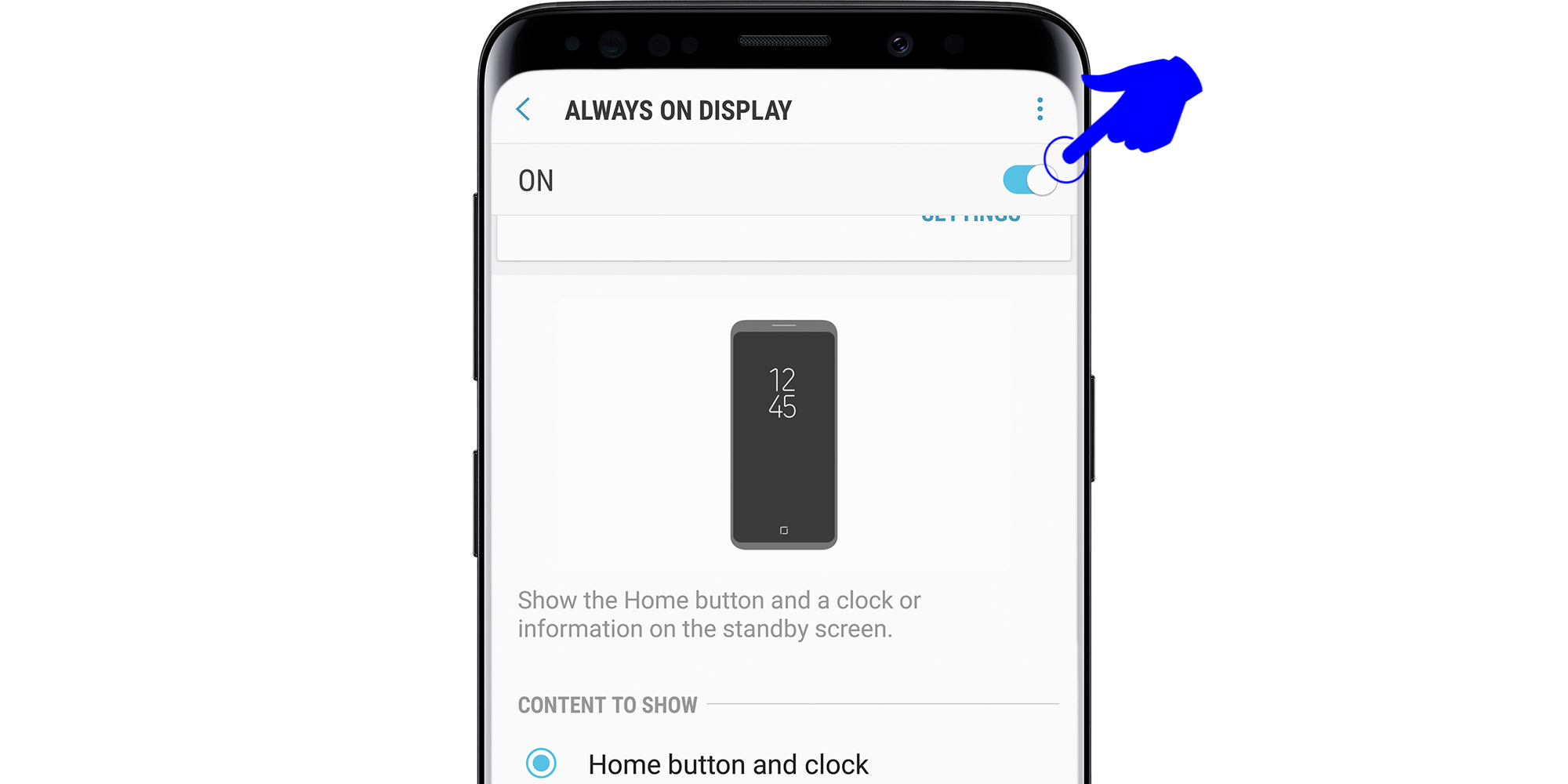 To set a schedule for AOD, just tap the option "Set Schedule" below the Home Button option.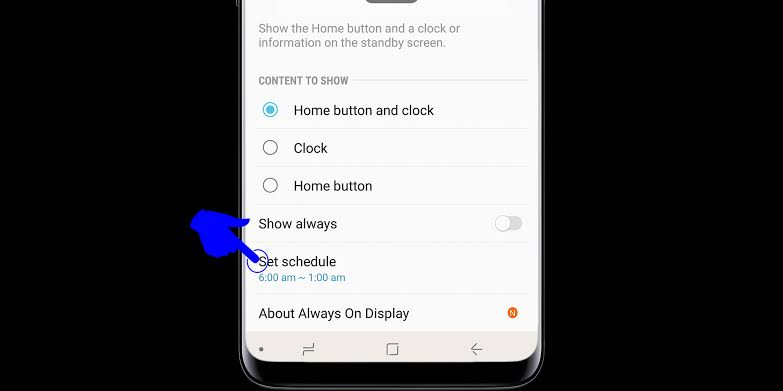 5-Enable Power Saving Mode
Power Saving mode prevents the extra drain of battery power from your device and keeps the limited CPU speed minimum, reducing the brightness on the screen and turning off the touch key light.
Power Saving mode differs in various devices, but it generally closes all the unnecessary apps and screens so that you can considerably increase the timing of your device's battery usage. Limiting the maximum CPU speed of your device increases the battery life as well as prevents any battery drain.
You can turn on Power Saving mode manually; you can set it so your device can go into Power-Saving mode automatically.
Head over to Settings from your home screen.
Go to Device Maintenance.
And then, Battery. Now you can enable the Power Saving mode.
6-Turn Off Wi-Fi and Mobile Data
Unnecessary turning on the Wi-Fi or cellular data may cause a significant drain on your device's battery. Turning on airplane mode when you aren't using the internet also helps in improving the battery life.
To turn them off, slide down from the top of your screen and simply toggle both off.
7-Enable Dark Mode
Samsung smartphones' OLED displays are flaky and beautiful, especially when it is paired with a 120 Hz screen refresh rate. Apart from the amazing screen-viewing experience, OLEDs also help in saving battery life.
Enabling the dark mode on Samsung's OLED significantly reduces the battery drain. OLEDs lack a backlight and, as a result, draw limited power when dark pixels are displayed.
To enable the dark mode on your device, follow the steps below.
Head over to Settings on your phone.
Tap Display settings.
Then, turn on the Dark Mode on your screen.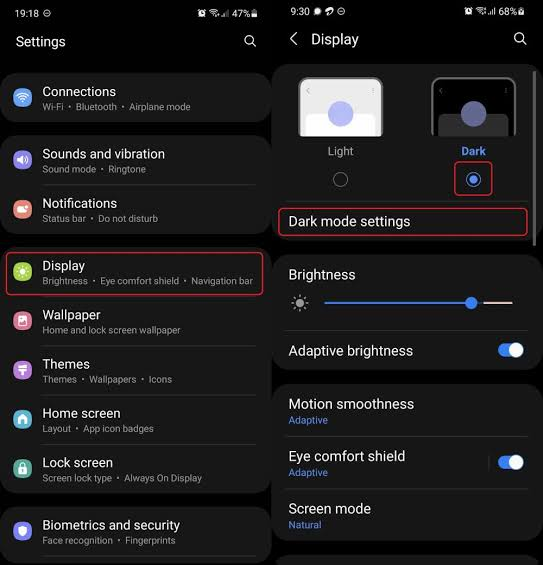 8-Disable Nearby Device Scanning
Nearby Device Scanning prompts your Samsung phone to search for available devices within reach occasionally and shows a notification when it detects one. This feature is helpful, but it is not that necessary to let it drain your battery.
To turn off this feature, follow the steps below.
Head over to Settings.
Then, tap Connections.
Next, More Connection settings.
Finally, Toggle off the switch for Nearby Device Scanning.
Conclusion
In essence, our beloved smartphones are the lifeline of our digital era, but they, too, need some TLC to stay powered up. With simple tweaks like lowering brightness, managing apps, and optimizing settings, you can revitalize your Samsung Galaxy's battery life. Let's bid adieu to the battery anxiety and embrace these easy, human-powered techniques to keep our digital companions energized longer. Remember, it's not always about the capacity but how smartly you manage it. After all, the power to enjoy longer screen time is now literally in your hands!
You May Also Like
Frequently Asked Questions;
Why is my Samsung battery draining fast?
There could be various reasons for battery drain, such as location services, background activity of certain apps, the screen might be too bright, etc.
At what percentage should I charge my phone?
Android phone manufacturers say that 'Do not keep your phone connected to the charger for long periods, or overnight'. Charging your phone between 30% and 70% should be the best case.
How do I make my phone battery stronger?
You can begin by decreasing the phone's brightness. Then try all the other choices, such as turning on power-saving mode, turning off Nearby Device Scanning, dark mode, turning off AOD, etc.
Why does my Samsung phone lose power so fast?
Samsung devices may lose their battery life faster in case any background activity is going on. Screen resolution and brightness also weaken the battery life.
How do I fix my battery drain fast?
To fix and improve your device's battery life, start with the basics, such as reducing the brightness, turning off AOD, enabling dark mode, enabling power-saving mode, turning off keypad vibrations, etc.
What drains the phone battery the most?
Mobile data is one of the heaviest drains on the battery of Android devices since it keeps using the internet and sending you whatever notification is the latest one. Be sure to toggle it off when you are not using the internet.
How many times should you charge your phone per day?
It's not about how many times – it's about how much percentage you should charge. The recommended battery percentage to connect your phone to a charger is 30%.
Does frequent charging damage the phone battery?
Frequently charging is harmful to the battery life. It is recommended that you plug in the charger once your device reaches 25%.
How does Dark mode help save battery life?
The dark mode is beneficial for OLED displays because these displays do not require a backlight when displaying dark pixels. By using dark backgrounds and interfaces, the display draws less power, resulting in battery savings.
What is Power Saving mode on Samsung phones?
Power Saving mode is a feature that optimizes your device's battery usage by limiting CPU speed, reducing screen brightness, and closing unnecessary apps and processes. It helps extend battery life and prevents battery drain.